Okuhida Onsengo
Japan is home to many hot springs.
Okuhida Onsengo is a collective of 5 hot spring areas settled among the Northern Japan Alps. The deepest region of Okuhida Onsengo is "Shinhotaka Hot Spring," where Nakao Hot Spring and our inn, "Nakaodaira" is located.
Featuring a high temperature steam spring, the spring contains sodium chloride and is known for its warming effects.
"Nakaodaira" hot spring is situated within the forest - a great hot spring to rejuvenate your body and soul.
A Forest Inn
Once you reach Nakao Hot Springs, all you see will be the mountains.
The inn is surrounded by the quiet forest.
Time for you to do nothing and think of nothing.
Take some time to rest your body and soul.
The breeze flows through the branches, the sound of leaves brushing against each other,
the chirping of birds and insects...
Surrender yourself to the breeze.
With winter comes a quiet silence that overcomes all sound.
Enjoy the best of Japan's nature here.
Meals
Our menu is based off of local favorites and local sake.
Perhaps trying a variety of Japanese food while traveling through Japan has got you a little homesick for Western food? Our inn's roast beef might be a happy surprise for you.
Our meals are neither fancy nor flashy, but it's made with love by the two owners. We hope you enjoy your meals.
Facilities
Our inn is a simply designed European style wooden inn in the mountains.
Immerse yourself in the forest and feel the nature surround you.
The heat from the hot springs warms the whole inn during winter.
We hope you enjoy your time here.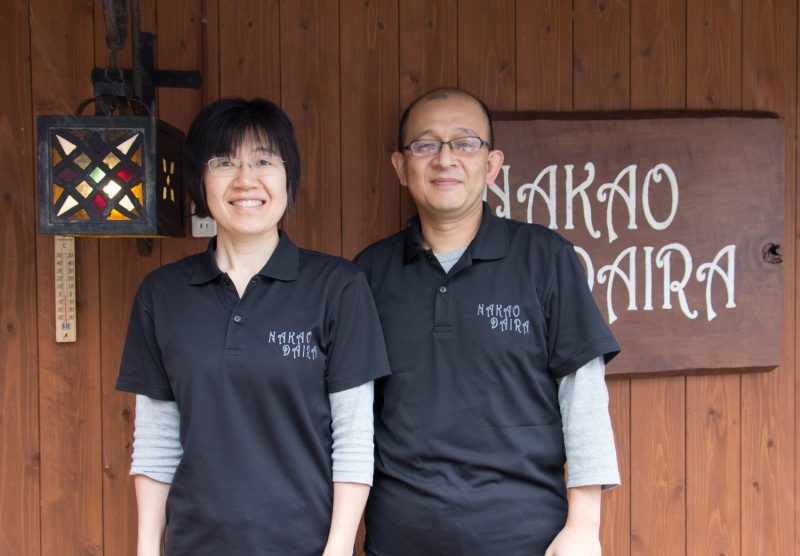 A message from the host:
Hello. Thank you for stopping by Nakaodaira's website.
Nakaodaira is a small, small hot springs inn managed by my wife and I. We wanted to welcome you and thank you for your interest in our inn.
Our small inn is managed by my wife and I.
The inn opened its doors 40 years ago, in 1970. That is also the year that my wife and I were born. 
Our inn is not so fancy and it may not fit everyone's taste. Customers who enjoy high class inns, large hotels, meals cooked by renowned chefs... Our inn may not be for you.
Large scale renovations of the guest rooms were carried out in 2006.
We've always wanted to fix this! This is the kind of inn we've wanted to become! These were the thoughts that we considered, as well as the many ideas and thoughts from our guests.
What kind of services can we provide???
Our goal is to provide a place where our guests can relax and take a bath in the hot springs.
We want to do our best to help our guests go home with smiles on their faces.
Current trends were not on our mind when planning the renovation. We were thinking of everyone who had supported Nakaodaira to this day.
That guest noticed this... That other guest requested that... So our inn may not be constructed to suit everyone's taste. Perhaps the renovation was done just for our own satisfaction.
If we have sparked an interest in you for our whimsical old-fashioned inn, we welcome you with open arms! We hope we can become a relaxing hot springs inn that becomes even better with each visit.
Yama no Ryosha Nakaodaira Owner Akihiro Minoura
Groups
Please contact us if you would like to reserve a stay for a large group. Our inn only has 6 guest rooms and most of our guests are couples and families looking for a quiet, relaxing time. Our inn is not suitable for banquets or parties. Thus there are times when we have to turn down requests for large group reservations. We hope you understand. Please contact us if you are interested in reserving the whole inn.
For Guests with Children
Nakaodaira welcomes guests with children. Traveling with small children can be quite tiring for both the parents and the child. Let's make fun memories of your family trip.
We would love to do all that we can to help you have a fun family trip. Please note that our inn is a small, wooden inn. If your child speaks loudly, jumps or runs around inside the room or hallway, it may take the other guests by surprise. Please be considerate so that everyone can have a relaxing time.
We limit reservations of guests with children under elementary school age to one family per night. Meals will be served in a private room.
Please notify us of any food that your child likes or dislikes. It's very important for the children to enjoy their meals during a family trip, so everyone including the parents can relax.
There aren't many playgrounds for children in Okuhida, but we have foot baths, the Shinhotaka Ropeway, Bear Park, and Yamanomura Ranch is a little further away.
Immersing yourself in a little bit of nature is always fun when traveling with your child. How about looking for the fireflies in the summer? You can see fireflies in Nakao from the end of June to early August. Enjoy a walk after dinner with your family.
It's playtime in the snow if you visit in the wintertime! Your child will have so much fun.
We hope you and your child enjoy a different kind of playtime in nature.
Cell Phone and Internet Usage
You may connect to the Internet via Wi-Fi at the inn. Please ask for details on how to connect at the front desk.
Certain devices may not connect well to the Wi-Fi. Also some rooms may have better connection than others. The 1st floor lobby seems to have the best connection.
We do not have any computers for rent. Please bring your own devices.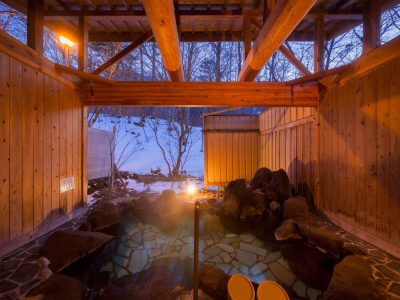 Private Baths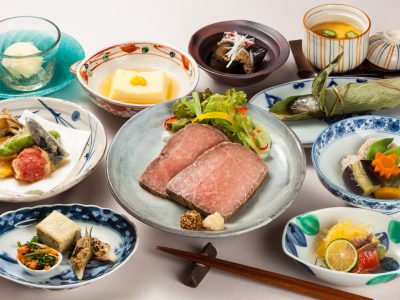 Meals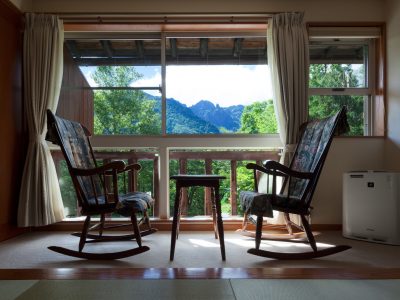 Rooms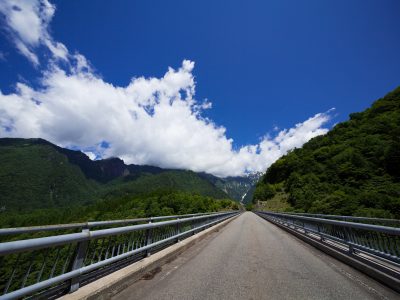 Directions and Sightseeing